Biryani is the food loved by everyone in India, we can also say that not just in India even in foreign countries biryani is being served.
Do you want to make veg biryani recipe: Here we provide you with the best recipe to make biryani at home.
There are different types of biryani from vegetarian to non-vegetarian. Veg biryani has sauteed vegetables of all types and non-veg contains chicken, lamb, fish, clams, and prawns.
Hyderabadi biryani and south Indian biryani are the famous ones. The difference between them is that Hyderabadi biryani is spicy than compared to south Indian biryani.
Even in Tamil Nadu, people call it as biryani, there are hotels just serve biryani as their main dish. The specialty about biryani is that each state serves a different type of biryani with a unique taste rather biryani is said to be biryani.
Style of cooking also differs, some pressure cooks it, some steam cooks it. It's
taste varies with the style of cooking too.
Not just the spices but also the cooking style is also important for bringing out a tasteful biryani.There are a lot of ready-made mixes available for making biryani, but to be honest we can't even compare it to the original biryani made with homemade spices mix.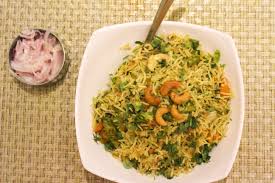 You can make your spice mix and you can store it for days, weeks and for months.
Some say it's very tough to handle the cooking biryani, but to be honest, if you are a beginner trying for the first time then it might be hard, but when you become an expert, I am sure that no one can beat you in cooking.
They say it's very hard, but actually, it's quite very simple. There are a lot of websites, blogs and recipe book for trying out biryani,  you can pick one and use which you are convenient to cook with, it makes it easy for you.
You can go through the common recipe and try it out.
The common Veg Biryani recipe is as follows:
The  ingredients that you may need are:
1 1/2  cup of basmati rice or regular rice
 1 Carrot chopped and few beans
Fistful of green peas, mint, coriander
1 onion sliced
1 tbsp ginger garlic paste
1-2 green chilies
Lemon juice
2 1/2  cup of water
Oil
Dry spices:
1 bay leaf
1 Green cardamom
1 Star anise
1 Cinnamon stick
Few Pepper corn
5-6 Cloves
 Few jeera
Biryani's main component is the biryani masala, which
brings out the taste
, it contains all of the dry spices. Those dry spices are roasted and ground into a fine powder.
Preparation :
Soak rice for at least  10 minutes before and chop all the vegetables.
Add oil to the pressure cooker and heat it.
Add spices and fry them until the aroma fills up the room. Fry onions until they become golden brown.
Add ginger garlic paste and saute them until the raw smell has gone.
Add veggies and mix well. Semi cooks the vegetables.
Then add the mint leaves and biryani masala and saute for 2 minutes.
Measure to the amount of rice that you are gonna add and pour water, (or coconut milk), salt and lemon juice.
When water boils, add rice and close the cooker.
Don't give too much pressure, just cook it for 15-20 minutes. Because we have already soaked the rice, and if the proportion varies the rice becomes sticky.
After 15-20 minutes, remove it from the stove and open after the pressure lifts and serves it hot with curd or yogurt.
You can serve side dishes such as onion curd, veg gravy or non-veg gravy. Some prefer gravy because it enhances the taste of the biryani.
To bring out the best taste, place a bowl with a piece of hot coal inside the biryani after it has been cooked and add ghee on coal and cover with fossil or place the lid tightly.
Given technique brings out the total aroma and biryani gets unified.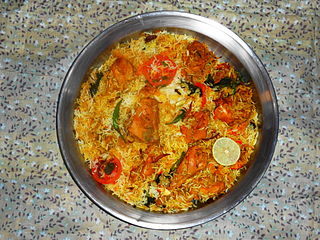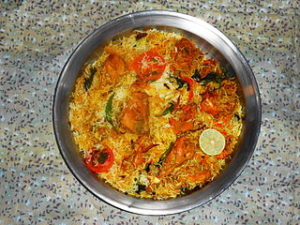 Layered biryani is quite different from others, this type is cooked in a layered manner. They place the masala mix first on the vessel and optional meat and layer of rice and tablespoon of ghee and it is continued until the end and it is cooked.
It is not to be mixed, it is served as it is and this won't be that much spicy, but the taste always lingers on your tongue.
Biryani is served in all functions around India, there is no function without biryani, it becomes The Star of the show and from old to young, no one has hatred towards the famous dish of everyone  "Biryani ".
You can also prepare another dish from this recipe, that is without adding biryani masala it becomes vegetable rice, quite interesting right.
It's not a tough job to cook, just take it as a hobby and work with it and it gives you joy and cooking helps you to handle with stress.
Who knows if you have a hidden talent, there is nothing wrong if it fails at first, you can try until you get it perfect.
You can also become creative while trying out new dishes. "Cooking is an art, which everyone has a canvas (plate)  to paint with".
"Stay Informed and connect to Today's era  for the latest updates."
Source: https://commons.wikimedia.org