Hollywood Movie Hindi Dubbed 2018
"Movies are the mere visualization of society.''We have listed the best Hindi dubbed movies for you.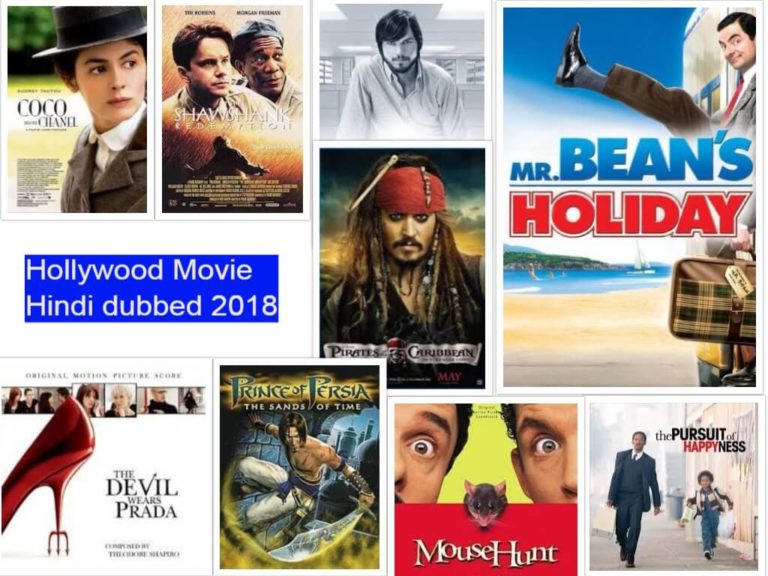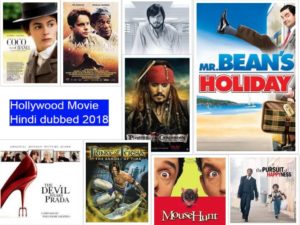 Lets' read new Hollywood Movie Hindi Dubbed 2018.

1. Devil Wears Prada Hollywood Dubbed Movie: The plot of the movie is simple yet it represents a deep thought. It glorifies the contrast we experience in our personal space and outer world perspective.

A simple college graduate in search of a job falls prey of workaholic fashion magazine editor. She faces lots of problems in adjusting herself with the new so-called atmosphere of the fashion world.
In the end, she succeeds and achieves whatever she aspired from the job. The irony lies in the fact that she loses herself in the whole process of settling for a job which she never even knew would come in her life. 
2. Mouse hunt Hollywood Dubbed Movie: It's a comical movie with a peaceful message at the end. Two brothers are separated by their behaviors and the nature of jobs. Destiny brings them together after their father's death in case of property.
The property comprises a factory on the verge of extinction and ghostly house. Both brothers settle for no less than best and decide to reinvent their property.
In the process, they meet a little mouse who is the key element of whole drama that goes into the plot. In the end, the mouse somehow manages to unite the two. To know more watch it now!
3. Mr. Bean's Holiday Hollywood Dubbed Movie:  Mr. Bean series has been one of the cherished tales among all age groups. No matter what mood you are! If you wish to bring smile and laughter in your life Mr. Bean can be your partner.
The movie begins with the happy note of Mr. Bean winning a Cannes trip. Mr. Bean goes to enjoy his holiday and mistakenly separates a father-son duo. Then the story revolves around making the separated people meet.
4. Shawshank Redemption Hollywood Dubbed Movie: The core of the movie is the optimism. In the prison where thousands of prisoners have lost hope of getting back to freedom. A man named Andy Dufresne ignites hope to live free. He is arrested in the case of his wife's murder which he has not committed.
He fights for his freedom and brightens hope in other's heart. Prisoners who have lost faith in the outer world regain their belief to live free. The movie revolves around the fact of achieving goals. Believing in optimism and overcoming fears. Its one of the most inspiring movies. 
5. Prince of Persia the sands of time: It's a completely magical experience. For anybody who enjoys magic and prince stories, this one is a perfect choice.

A royal family with envies and brotherhood form the plot.
A dagger which has the power to reverse time is the eye's apple of all premium characters. An adopted son who should become the prince of Persia gets trapped in the family controversy.

All this is followed by the prince meeting a beautiful princess and falling in love. As its known all's well that ends well finally prince gets his throne. To unfold more watch, it now.
6. Coco Before Chanel Hollywood Dubbed Movie: Starring Audrey Tatou this is a biographical drama of French fashion creator Coco Chanel. Gabrielle Chanel is an orphan girl who works in a provisional bar. She sings the song 'coco' in her sweet voice which redefines her as 'Coco'.
Coco Chanel became one of the trendsetters in the clothing industry. Chanel is one of the most trusted brands now. Chanel felt that Voluminous floral gowns limit the freedom of women. She believed that fashion is about being comfortable.
It should be elegant defining who you are. Simply following the jargon fashion outfits makes dressing fussy, uncomfortable.
7. Jobs Hollywood Dubbed Drama: This is a biographical drama based on the founder of tech giant Apple. Apple is the leading revolutionary brands in technology and innovation. Steve Jobs, a visionary who believed in innovating is a hero in the plot. Steve Jobs along with his friends Steve Wozniak and Josh Gad founded Apple computers.
Ashton Kutcher portrays Steve Jobs in his best form. The story reveals the passion of Steve Jobs which has made 'Apple' succeed.
A fresh Reed college dropout hunts and makes his way to start his own computer developing the in-house company. With the idea of making computers feasible, handy and useful for all jobs took the initiative to revolutionize the way computers worked. The movie rejuvenates Steve's ambition and mission to make Apple a trademark of Innovation. 
8. The Pirates of Caribbean Series: The series is based on Walt Disney's theme of Park ride. It's a magical experience which draws you to absolute fantasy.
Adventurous trips to destinations which are almost impossible to locate define the tour of pirates in the sea. It's fun to watch Captain Jack Sparrow in his voyage to fight for his mission in every upcoming part of Pirates of the Caribbean.
9. The pursuit of Happiness: This is yet another biographical drama on a successful entrepreneur Chris Gardener (initially salesman). Will Smith and Jaden Smith are playing the father-son duo. They completely justify the given roles. The story revolves around the time when Chris is homeless jobless and frustrated.

The story starts with a young man trying hard to fulfill his family's basic needs. His wife has claimed him useless and unworthy to keep his son. Unable to cope up with daily quarrels and pending bills his wife decides to abandon him. She leaves but his son remains with him.
Taking care of his son becomes his priority. After struggling for around one year finally he lands up a job which he had always dreamy. The story ends by giving optimism and hopes to survive all the tough situations we face in our daily lives.

Cinema has a great impact on the way people think. It has the potential to influence millions. This is what makes every video and movie valuable. Keep watching movies to get more ideas.
These movies can help you experience something which has never happened to you in real life. "Movies help you understand things beyond your personal boundaries!"
"Stay Informed and connect to Today's era Entertainment for the latest updates."