Reliance Jio has come up with a new reliance jio postpaid plan which had implemented from 15 may 2018. The new reliance jio postpaid plan is of rupees 199 per month. The new postpaid plan is going to give a great and intense competition to all the competitors in the telecom sector.
The Reliance jio has introduced this new postpaid plan which offers zero-touch feature; feature offers its subscribers to get pre activated voice calls internet data SMS and national calling services.
Get Reliance Jio Postpaid Plan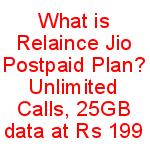 This new postpaid plan has come up with unlimited voice calls and free SMS, as well as 25 GB of mobile data and in this plan those users who have consumed the 25 GB of data will pay 20 rupees per GB of data, these all are the information which has come up from the official site of Reliance jio. This new Reliance jio plan is highly expected to trigger a lot of competition in the telecom sector say the analysts. Reliance jio has also announced its international roaming and international calling tariff for the postpaid and prepaid subscribers alike.
Reliance jio has announced its international roaming rates 2 rupees for SMSes, data and voice respectively it means that the subscribers can make a call a call for rupees or use data per MB for rs2 or send an SMS for rs2 on international roaming.
Reliance jio said that the 2 Rupees service for the voice data and SMS is provided in 33 countries which includes Canada New Zealand the United Kingdom you the United States and the Netherlands.
Where is if roaming is considered in countries like Australia China Russia Germany Kuwait Myanmar South Korea Spain the subscribers will need to pay 10 rupees per minute for call 10 rupees per SMS and 10 rupees per MB of data saved by Reliance jio officials.
Simultaneously, Reliance jio has introduced 3 new packs that are international roaming packs which include the pack of rupees 575 rupees 2875 and 5751. The 575 rupees pack will have a validity of 1 days whereas the back of rupees 2875 will have the validity for 7 days whereas the pack of rupees 5751 will come with a validity duration of 30 days, simultaneously the subscribers of rupees 575 and 2875 rupees pack will get 250mb of high-speed data per day whereas the subscribers of pack of rupees 5751 will get a total of 5 GB of high-speed data on international roaming, these all three packs will have or provide unlimited local voice call in the foreign country and SMS, even these packs get exhausted the subscribers of these bags will get 64 Kbps speed in order to surf net.
The link for Reliance Jio Postpaid Plan  is: http://www.jio.com/postpaid
Here, is an amazing offer that Reliance jio is providing, as this postpaid offer provides 25 GB of 40 data to the subscribers with no daily limit it totally comes up to the subscriber that subscriber bonds it to use as a onetime total consumption or on the billing cycle. Simultaneously the customers or the subscribers are getting unlimited calling on national local. The Reliance jio rupees 199 postpaid plans also come up with pre-activated ISD calling without any deposits regarding security.
Moreover, these postpaid subscribers how to make ISD call to the United States or country like Canada at 50 paise per minute. However, Reliance jio plan does not offer it roll over facility 2D unlike Vodafone, Airtel etc. The subscribers of Reliance jio will also get complimentary free access to the apps that are present in jio application like jio cinema jio music jio TV and jio security as well.
This Reliance jio new postpaid plan has taken everyone by surprise for sure postpaid plan priced at rupees 199 offer Siemens new things to get subscribers compared to the other service providers.199 monthly rental plans customers do not require to pay any security deposit for getting international calling services. Also offers 25 GB of internet data and unlimited messages.
Jio will offer call @ rupees 55 per minute to the countries like Canada and USA rupees 2 per minute to the countries like Singapore France United Kingdom and rupees 3 per minute two countries like Hong Kong and Malaysia as confirmed by Reliance jio website. As stated, Reliance jio also launches 3 postpaid packs of rupees 575 rupees 2875 and rupees 5751 which offers unlimited voice call and data have 3 packs will be valid for 17 and 30 days respectively.
These plans once again will challenge the industry the Telecom industry by offering lowest tariffs in India and abroad to postpaid subscribers who generally ended up paying appropriate higher prices compared to the prepaid segment. This highly attractive and customer friendly tips will surely help the subscribers to remain connected everywhere all around the world without thinking of the will cost that they have been used to think about this for years in the past.
It has been said that the new postpaid plan of rupees 199 announced by Reliance jio is highly expected to hit revenue of competitors and for sure trigger tariff war for in the postpaid segment according to the market analysts.
Reliance jio tariffs as offered by Reliance jio are quite competitive sure give a very tough competition to the competition in the telecom sector. For this new postpaid plan, 199 will not require to pay any security deposit and the subscribers will get unlimited free voice call SMS and 25 GB of data at 4G speed. CLSA analysts like Deepti Chaturvedi and Akshat Agarwal said that 5 percentages of the telecom sector subscribers I have subscribed to postpaid plans.
It has been shared hi Morgan Stanley that the new plans of Reliance jio postpaid customer name pack 1 percentage of the new generated by Airtel mobile in case medias available tries to match the tariffs.
On 15th of May 2018 Reliance jio announced at rupees 199 postpaid plan which offers 25 gigabytes update every month it directly signifies that it is 50% cheaper call plans provided by the rivers and is at 60 percent discount for sure to their average revenue per user, according to Jeffries.
The link for Rupees 199 postpaid plan is: https://www.jio.com/postpaid-4g-plans
"Stay Informed and connect to Todaysera  for the latest updates."