A happy marriage is all about three things: Memories of togetherness, forgiveness of mistakes and a promise to never give up on each other. Marriage is always a beautiful thing, and everyone wants to make this the best memory of their life.
Goa is one of one of the best places to visit in India.
Right after the marriage when your every relative finally leave you alone to talk to each other, you better feel like going to a place where it feels like no one is watching the most romantic couple on the earth.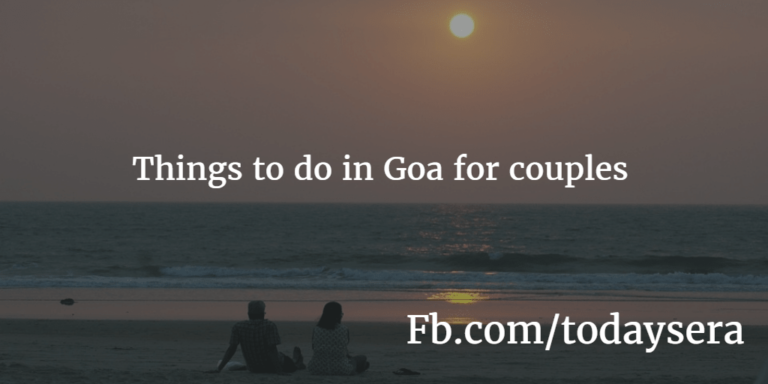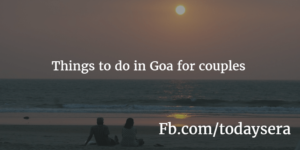 When we talk about India, and honeymoon the first place which comes to the mind is GOA. No matter how different taste you have a couple, but Goa is a place where you both enjoy your first tour of togetherness.
Goa – The city of beaches, serene nature, devotional pilgrims, or amazing nightlife where the party never ends. 
When you are planning to visit Goa by train or flight both makes your romantic journey from the first step you take from your home.
While taking the train the breathtaking experience of Konkan Railway is going to feed your mind forever, and when you want to fly the landing would going to be the breathtaking experience where you fly in the deep blue sea, trust me this nature's experience you will take back to your home and will keep somewhere deep down to your heart.
Now let's see, what all you can do at Goa or what are the things to do in Goa for couples
1. Beaches
Beach activities are the most popular and essential things to do in Goa, there are many beaches which you can not miss to visit holding your spouse's hand.
Mandrem beach – If you are here for your Honeymoon and do not visit this beach of Goa, your whole trip goes to waste. This is the best beaches in Goa, considering especially for a newly married couple, this place has lots of things to offer to honeymoon couples.

This place is in North Goa, you will find many beautiful hotels and resorts here specially built for NRI's and foreigners, to make them feel home alike.
Agonda Beach – Here you will find many facilities available for foreigners, once you hit this place you can easily lose in the beauty of the waves.
Vagator Beach – If you are in North Goa, do not forget to hit this place. You will have much romantic experience on this beach, the white and soft sand gives the relaxation of your body and soul. You can visit the Chapora fort, which is the very nearby attraction of the beach.
Calangute Beach- This beach is also known as the queen of the beaches. although you will not let lonely time here, but if you and your partner love adventure this is the place to Bang on.
You can have plenty of water sports together like, Kneeboarding, Wakeboarding, Windsurfing, Jet skiing, Banana Tube Boat Ride, Parasailing, Yachts and Cruises, Water Skiing, etc
Capora

beach – this beach is very popular among Indians if you are a fan of Indian

Bollywood

movie you can remember this beach. This is the beach where numbers of

Bollywood

movies have been conducted.
Here in Goa when we talk about beach activities, it's not only taking a relaxed day laying down at beautiful sea shore, feel the sand's softness or just take a sunbath, it's far beyond at Goa. Visit Goa and something will change your mind.
Goan Food
Even if you are not a foodie once you hit the land of Goa, I am pretty sure you would love to give your tongue a much-needed vacation. And If you find yourself foodie Goa is probably the best place to taste the best and authentic Goan food.
Rent a Bike and roam around the city
This one is really fascinating to do so, no matter how old you are, you take a bike on rent and go for a romantic ride around Goa.
Water sports
Goa is a city of beaches you will get beaches according to your mood, feel like doing adventure??? Hit the Calangute Beach The "Queen of beaches", you are going enjoy the water sports here. It's always fun to play in the water. Be it Banana Tube Boat Ride, Kneeboarding, Windsurfing, Parasailing Wakeboarding, Jetskiing,  Yachts, and Cruises etc.
Enjoy shopping at Calangute Beach:
You will find Calangute Beach features in every Goa travel guide! This is the most famous beach in the state. Yes, you may find it overcrowded, but no matter when you see the charm and beauty of this beach you will have a serene feeling deep down in your heart.
you may buy sarongs and trinkets made of the sea shell, even you can look for leather, metal, accessories, clay items, carpets etc at the Calangute market square.
Dolphin Excursions at Candolim Beach:
If you are an animal lover then this experience will always remain in your heart. You can find local tour operators present at the beach to guide you a Dolphin spotting excursion.
Elephant ride:
This activity is fun to do. You must try elephant ride and splash in Goa. You will find many farms, wildlife sanctuary, which offers this.
Enjoy the Nightlife at Baga Beach:
At the time of the Hippie movement of the sixties and seventies, the Baga Beach was made popular. Being a honeymoon couple beautiful night life is always an attraction. You can find a very vibrant nightlife at Baga Beach, this beach is lined with many beautiful and famous restaurants and an extraordinary flea market.
Enjoy Sunset with your spouse at Miramar Beach

:
Miramar beach is located 3 kilometers from Panaji. During the day you will find this place crowded. At the time of sunset, you can have the beautiful, mesmerizing view of the fort Aguada from the beach. The beach was originally known as the 'Gasper Dias Beach'.  
Go Snorkeling:
Now Goa is emerging as one of the popular spots to explore the underwater world.The Grande is known as one of the best options for underwater snorkeling
There are no limitations to have fun at Goa, when you hit the first step at Goa, remember you will never going to delete these memories from your heart. Goa is a place where you can enjoy, love, drink, dance anything which suits you.
That is the reason when we think of Honeymoon at India, Goa is probably the first choice among young couples.
"Stay Informed to Todaysera latest updates."