Do you know what is the full form of MBBS?
MBBS: Bachelor of Medicine, Bachelor of Surgery
This abbreviation stands for Bachelor of medicine and bachelor of surgery. It's one of the most top ranked courses in the world. After pursuing MBBS a person is a legal medical practitioner by profession. It's a very long study which requires a lot of skill and patience.
Being a doctor is one of the noblest profession. It is not easy to become a doctor, one has to go uphill to crack competitive exams. In India, there are lakhs of medical aspirants every year who compete for best medical colleges.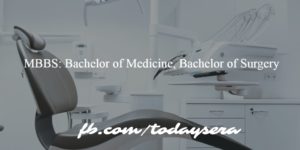 But the dark reality of the situation is that seats are very limited and therefore you need to prepare yourself to get into a good college.
Eligibility:
Eligibility for sitting in an entrance exam of any medical college or any medical competitive exam is that you should pass the intermediate with not less than 60% marks in chemistry, physics, and biology as the core subjects.
There are no limitations on a number of attempts for this entrance exam. However, there are always amendments going on in rules and regulations of the exams.
There are many ways to prepare for these exams. Many students opt for coaching and few prefer self-study. But to be very true no coaching can guarantee your selection, it's your techniques, hard work and time management which will sail you ahead.
One more important tip to crack any such exam is as sooner you start your preparation, greater are the chances of your success.
Time duration
The time duration for MBBS course is 5.5years including 1 year of mandatory internship.
What after MBBS?
MBBS is a bachelor degree. To increase your skill and pursue a better professional background. One can go for higher courses like Masters of medicine or masters of surgery. These degrees are kind of specialization in the specific field.
If you are not interested in pursuing higher studies you can apply for jobs in private and public sectors after completing at bachelors degree.
Job prospects after MBBS
There are a vast number of job prospects after completing MBBS degree. One can apply for government job openings. There are many private hospitals also which give a good package. If you don't want to work or do a job as such then you can open your own clinic and practice freely.
Best Colleges for MBBS Rank Wise
There are many governments and private medical colleges. Government colleges have slightly low fees when compared to private institutions.
All India institute of medical sciences.
Armed forces medical college.
Maulana Azad medical college.
Christian medical college.
Kasturba medical college.
Institute of medical science, but.
Johns medical college.
Sri ramachnadra medical college
SRM medical college.
MS Ramaiah medical college.
Jawahar all Nehru medical college.
Other than these there are many private medical colleges which grant admission on the basis of NEET-UG exam ( all India medical entrance test)  score.
All the best.