WIPRO Full form: Western India Products

Wipro – Western India Products Limited
Wipro is the tech giant seeded by Mohammed Premji and succeeded by his son honorable Azim Premji. Since incubation Wipro has always created hallmarks of its success. Starting at a smaller pace Wipro has diversified in many other major segments.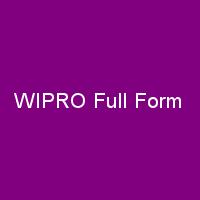 Wipro full form in Hindi: वेस्टर्न इंडिया प्रोडक्ट्स
The success of Wipro lies in its basic values. It delivers to be the best. Supporting various social causes, healthcare facilities, educational establishments Wipro has captured a wide fan following. It works on the principle of never compromising quality over diversity.
Type of Organization: Public
Industry: Information technology, Consulting.
Areas covered: Globally established
Father of Organization: Mohammed Premji
Key people: Azim Premji (Chairman)
Services: Digital strategy, IT services, business development.
Chronology of Wipro's achievements
1966-1992
Diversification in the product line into heavy duty industrial cylinders. Launching of mobile hydraulic cylinders.
In 1991 birth of tipping systems and Eaton hydraulic product created a revolution.
A significant development in the power division in 1992 helped in the development of the construction sector. Offering standard construction equipment and hydraulic cylinders Wipro became one of its kind to deliver such service.
1994-2000
This was the globalization phase of Wipro. It joined hands with a global telecom major KPN (Royal Dutch Telecom) to create a new venture named "Wipro net limited''. Wipro net limited provided high-speed internet services in India.
2001-2010
In the year 2006 Wipro added a new feather to its cap by adding C Mango Inc. (Us based technology consulting forum).
In 2008 Wipro eco-energy came up as Wipro's clean energy mission business.
2011-2018
A memorable event happened in the year 2011 when Wipro signed a treaty with the science applications international corporation (SAIC). After this Wipro acquired the global oil and gas information technology practice. These were earlier solely owned by SAIC.
Keeping equilibrium with market fluctuations and changing trends Wipro is one of the most trustable names in the IT industry.
Wipro group of company's diversification
Wipro infrastructure engineering
The key specialization areas include hydraulics, water treatment, automation solutions and additive manufacturing. It's a multifaceted arena which leverages scope in major industries like forestry, farm, truck tipping, cargo handling and food industry.
Wipro water treatment has contributed to steel, pharmacy, chemical, and beverage industry. There are several other advanced unique services like aerospace, space, defense, industrial & oil and gas industry. The skilled workforce and teamwork create a huge global potential customer base.
 Wipro consumer care and lightning.
With major operations being in India, South East Asia, and West Asia, Wipro serves consumer care products like soaps, toiletries, personal care( face wash, lotions, shampoo, oil) baby care products, wellness products, modular office furniture and many more.
Its wide potential customer base in the Middle East. Wipro is one of the fastest growing FMCG brands in India. There are many global brands acquired by Wipro including Unza, LD waxons, and Yardley.
A huge market base and growing FMCG presence promise great achievements for Wipro in the coming future.
Wipro carries huge potential as the IT industry. It is an emerging brand name offering employment opportunities and quality services in all domains.
Future is bright for Wipro!
"Stay Informed and connect to Today's era  for the latest updates."