We all have heard the acronym IAS in Hindi and English. But do you know what it is?
IAS Full form: 

Indian administrative services.
It is a dream of many youngsters to serve the nation on this prestigious post of IAS. Obviously, the road to success is tough but better surveillance and guidance guarantees success.
To qualify IAS there is a nationwide exam. Every year lakhs of students appear for these exams. The examination pattern and syllabus are set. In the second phase, every candidate has to pass an interview.
In other words to achieve the IAS goal you have to develop your personality along with your academic score and general awareness.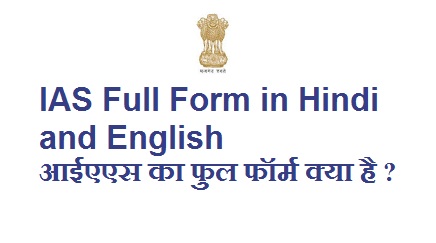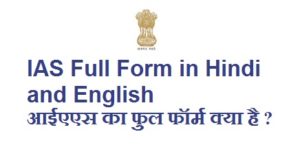 IAS  Full Form in Hindi: भारतीय प्रशासनिक सेवा

Examination pattern
The entire process of examination and evaluation is divided into three tiers. It includes prelims, mains followed by the interview. The prelim paper has two papers. Each rewarding 200 points. The paper consists of questions based on general studies and awareness. To qualify prelims you need to score at least 33% in the general awareness section.
Candidates qualifying the prelims get to next level where they appear for mains paper. The mains paper has 9 divisions. Out of these 9 two are qualifying. Total marks is 1750. Once you crack the prelims stage you are called for an interview.
There is no set questionnaire or pattern for the interview. You need to develop your intellect and answer the questions with patience and utmost attention.
IAS eligibility
Any candidate can appear for IAS entrance after completing graduation from recognized university/college.
For general category age limit is 32 years and the number of attempts permissible are 6.
For obc category age limit is 35 years. The number of permissible attempts is 9.
For (SC/ST) age limit is 37 years.
For physically disabled candidate age limit is 42 years.
Preparation of IAS
It is not a one day job to get ready for the IAS entrance exam. If you wish to pursue a career as an IAS then you should start preparation beforehand. There is a lot of competition in this arena and chances of success are very less if you are not sure of preparation.
To crack this exam you need to have a deep knowledge of your chosen subjects. Command on general studies and general awareness is the must.
To achieve the success you need to be focused and overcome all distractions and plan your studies and time.
Managing and planning the syllabus will help you remain relaxed and confident on the exam day.
For practice, you can download the mock test samples or join good test series group. With this information in hand, you are ready to start your preparation for IAS.
Good luck!
"Stay Informed and connect to Today's Era Full Form List  for the latest updates."