A Guide to Holi Festival in India: Holi, the festival of colours and a national holiday in India, is undoubtedly one of the most important festivals of northern and western India and is celebrated in other parts of the country too.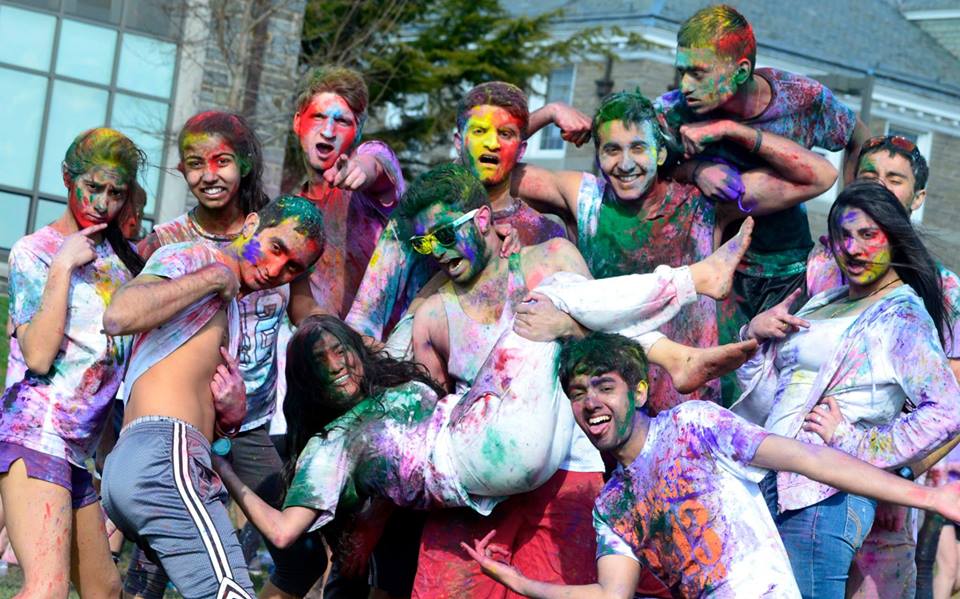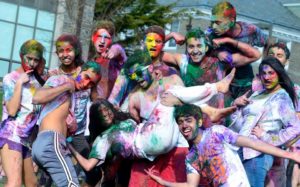 It is the Hindu spring festival of India and Nepal, which usually falls in the month of March and thus the beautiful weather of the time contributes further to the enjoyment and fun of the people.
According to the traditional Hindu Panchangam, it falls on the day of Phalguna Purnima (full moon) which is also known as Dol Purnima in some states.
Like most Hindu festivals, Holi too has a religious importance in the lives of people and comes with an elaborate set of rituals and food items that are considered absolutely essential to maintain the integrity of the festival. Thus, to understand this unique festival, we must explore all its facets carefully and get an idea of the festival in its totality.
The Religious Significance of Holi
There are several mythical legends which talk about the origin and root cause of the festival but the most popular and widely believed legend is that of Prahlada and his evil father Hiranyakashipu.
Several hundreds of years ago, there was a young religious boy Prahlada who was a true devotee of Lord Vishnu and chanted his name all through the day. On the other hand, his father Hiranyakashipu was a demon and hated all the gods, most of all the Lord Vishnu.
Angered by his son's unfailing devotion, he finally lost his temper one day and challenged Prahlada to prove whether Lord Vishnu would really come to his help in fatal situations.
His sister, the demoness Holika, had a boon from the gods that fire would not burn her and thus he commanded Holika to sit with Prahlada in her lap in a fire. Prahlada kept chanting Vishnu's name and thus no harm came to him but soon after, Holika, due to evil behavior, was burnt into ashes in the pyre.
This signified the victory of Good powers over Evil beings and is thus celebrated with colors to emphasize the beauty and happiness of life that lies in goodness.
Rituals of Holi
The festival is usually celebrated over a period of two days – the first day is known as Holika Dahan or Chhoti Holi and the next day is Rang ki Holi or Badi Holi. In many places, such as Assam, Chhoti Holi is celebrated by playing with mud and dirt (which signifies evil) and in the evening, a bonfire is prepared usually at the intersection of two roads (known as a Chauraha) is believed to purge people of all their evil deeds by representing the end of the evil Holika.
On Rangeeli Holi, people dress up in white and come out on the streets to play with colors – both Gulaal (dry color powder) and also with pichakaree (used to spray colored water). Some also use color filled balloons to increase the fun of the celebrations.
In Mathura and Vrindavan, there is an unusual ceremony that is performed called Matka ceremony. In this, a big earthen pot of buttermilk is tied at an unreachable height and then boys form a human pyramid to reach up to the pot and break it.
The females nearby then try to dislodge the males so that they become unsuccessful in their attempt. This is a really unique concept and thus has nowadays been taken up in many parts of India away from Uttar Pradesh.
People of all caste, community, and classes of life can participate in this beautiful festival as it calls for no expensive attire, elaborate rituals or extravagant offerings to God. It simply needs a joyous attitude and the desire to have fun with our near and dear ones. The fact that this is one of the few festivals of India where people can take part without any prohibition is what makes it so unique.
The Delicacies of Holi
One of the most riveting parts of the festival is the array of scrumptious drinks that are almost considered mandatory and are an integral part of the spirit of Holi. The most popular drinks at this festival are Thandai and Bhang while the highly-preferred food items are Puran Poli and Gujiya.
• Thandai is a cold drink that is prepared with a mixture of many items almonds, fennel seeds, rose petals, cardamom, saffron, milk, and sugar. It is native to India and is often associated with the Holi festival.
• Associated with Lord Shiva, bhang has now become synonymous with Holi. Culled from the leaves and buds of cannabis –this drink helps to muster the spirit of Holi.
• Puran Poli is a wheat flour roti with a delicious Puran stuffing in the middle. The Puran or filling which is made with a mixture of boiled mashed Chana dal cooked with jaggery and cardamom.
• Gujia is a sweet dumpling made with suji or Maida flour wheat flour and stuffed with a filling. It is common in certain states of Northern India.
The Global Outreach of Holi
This festival of happiness is not only celebrated in India in modern times but has been consistently gaining popularity all across the globe, due to its unique approach which allows people from all stations of life to participate in and enjoy the celebrations.
A number of festivities which are influenced by Holi and colors have recently become popular, particularly in Europe and the United States. These have included Holi-inspired music festivals such as the Festival of Colours Tour, the Holi One (which feature timed throws of Holi powder), and also certain long distance run franchises such as The Colour Run, Holi Run, and Colour Me Rad.
Thus, Holi is not only a festival that is close to the hearts of Indians but people all over the world and it does not need to be mentioned that Indians, especially, await the arrival of Holi with baited breath, whether they are residing in India or any other place on the face of the earth.
"Stay Informed and connect to Todaysera  for the latest updates."