What is Sarahah app?
If you think you know about all the trending apps then you will be definitely known about sarahah app as it's the most trending app of the month.
Sarahah is able to replace Sayat and Askfm as one of the most anonymous social media in India where a user can post anything they feel about a particular colleague provided that they know their Sarahah id (i.e. for example todaysera.sarahah.com).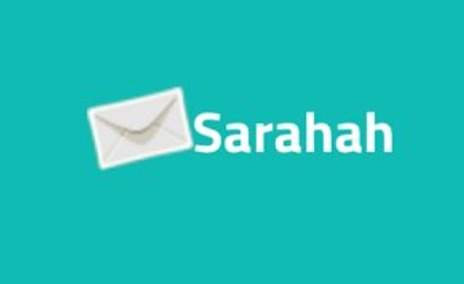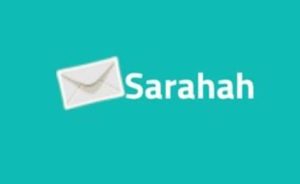 Image Source: http://edtimes.in
Well, it's one of the latest tech wonders that is happening, it has a very good user interface and its server crashes less which has helped it to edge over its rivals like Sayat.
Although a lot of proxy websites are coming up to gain access to users' data and other confidential information about the users.
Sarahah app ensures that its confidentiality about the users and their trust is never broken through their terms and conditions.
One of the best features of this app is that it ensures complete anonymity to the sender.
Sarahah still remains a mysterious app to most of the people and many of us have many doubts ranging from where to download this app to is it available on a website???
So below in detail, we here at Today's Era have decoded all the information that one needs to know about Sarahah app.
What does Sarahah mean?
Sarahah is a word taken from Arabic language and it means "Honesty" in Arabic.
This app was developed to ensure that the people who are using it can comment on people anonymously unless they give out the hints about whom they are.
Who is the developer of Sarahah and where is the origin of this app?
Zain Alabdin Tawfiq developed a Sarahah app who wanted to give genuine feedback about people anonymously without revealing the identity of the sender it was developed over time with help of open source software technology.
Probably, Sarahah was initially believed to be launched in Saudi Arabia.
Does Sarahah app have an official website/web page?
Yes, Sarahah app has an official website it is" www.sarahah.com ", from where you can gain all the information regarding this application.
Is Sarahah app available on Google play store?
Yes, one can download & install official sarahah app on google play store by clicking the below link.
Although many websites claim to give out apk of this app but most of them contains spams and virus so it's better to download this app only from Google play store.
https://play.google.com/store/apps/details?id=com.sarahah.android&hl=en

What is the best way to get more response on sarahah app?
The best way to advertise and get more response on sarahah, you just have to post your sarahah id on all the social media handles you have like Instagram, Facebook, Whatsapp etc.
And also share your user id with friends and colleagues.
How can one get themselves registered on Sarahah and what are the details do we have to share?
Well due to a lot of people having a confusion on how to open an account on Sarahah, we here at Today's era presents how to register yourself without any hassle and what all details they ask before registering.
You just have to follow a few simple steps as stated below:
Steps:
1)    Go to Sarahah website i.e. www.sarahah.com or by downloading the android app and go to option register where you will have to fill following details email id, password to access the file, username, name, photo (it's optional).
2)    Tick option I have read and accept the Terms and Condition (which can be read by clicking on it and you will be redirected to Terms and Condition page).
3)    Click on Register and Voila!!! Your Sarahah account is ready.
Down below you have the screenshot of the registration page of Sarahah app.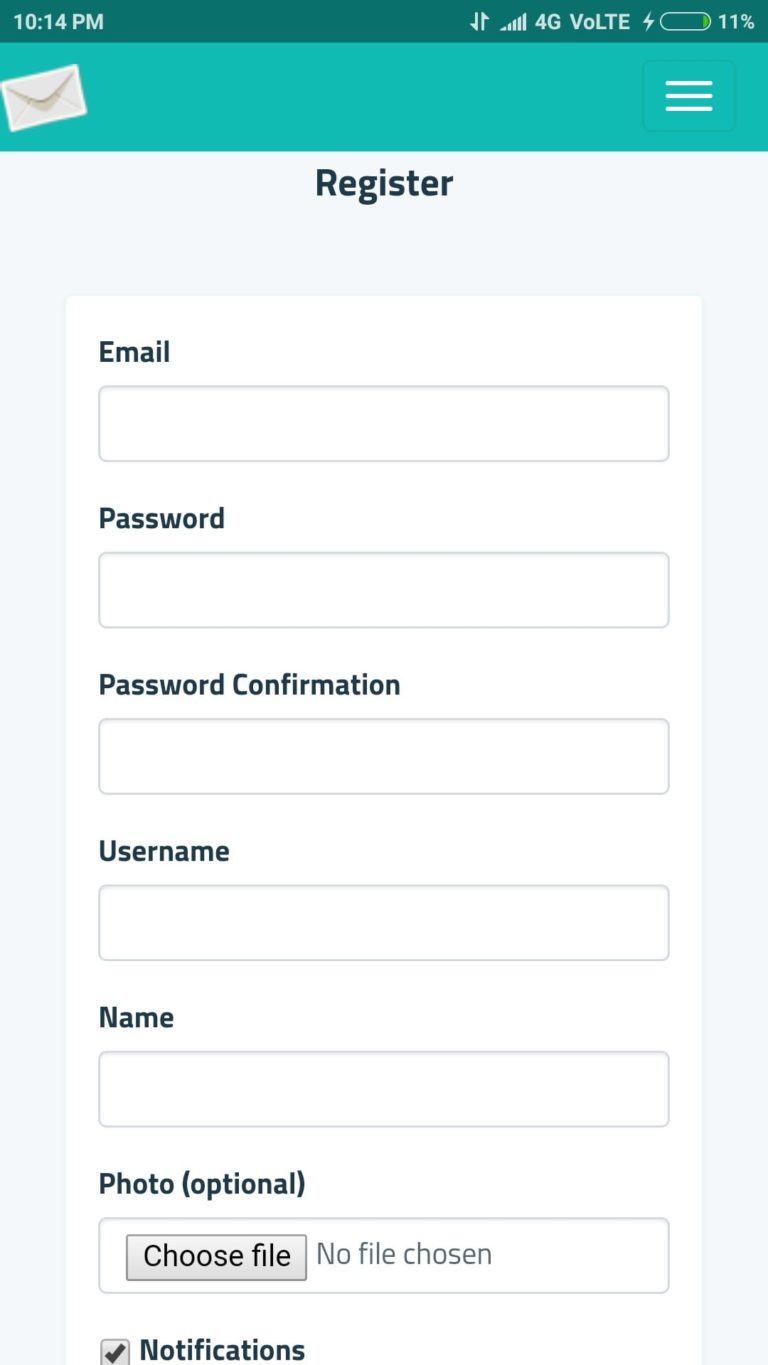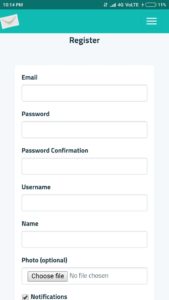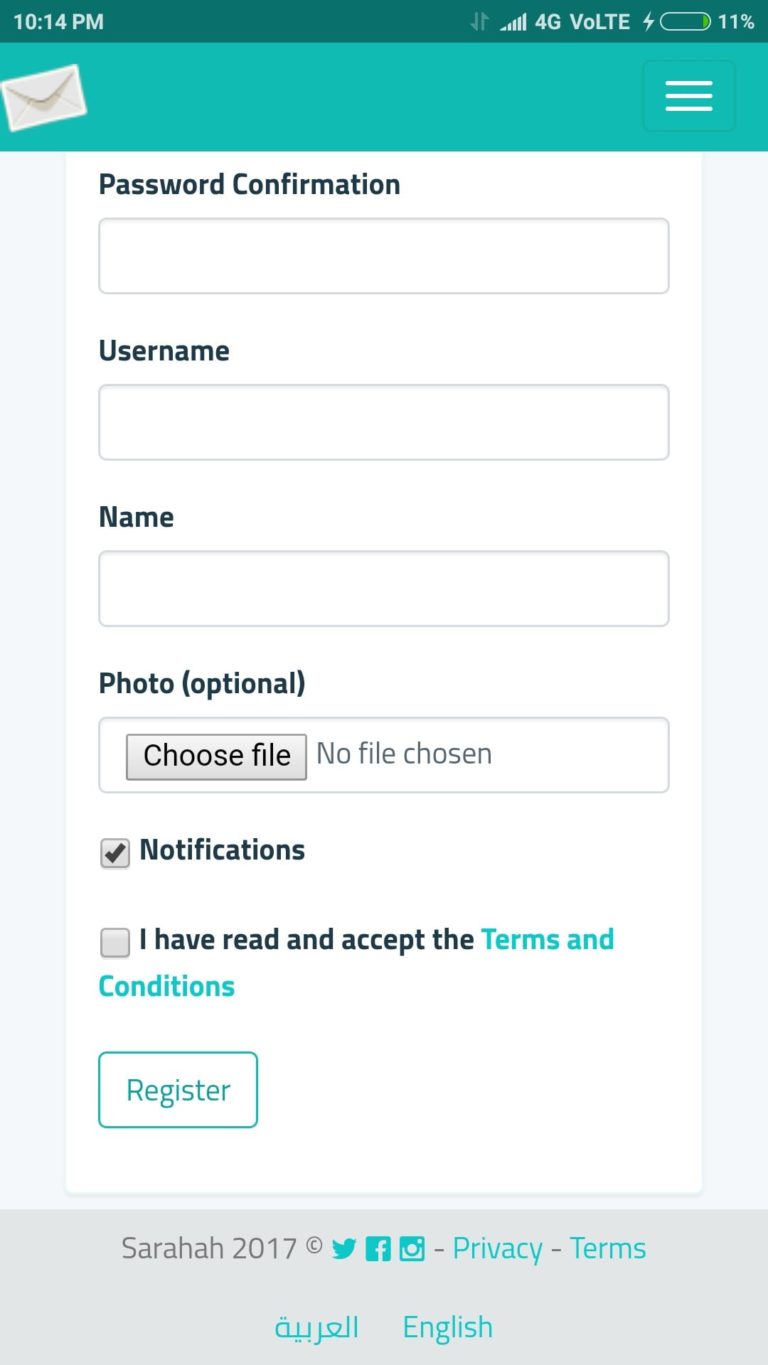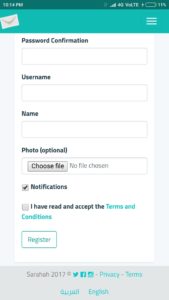 Now all u have to do is share your Sarahah id with your friends, colleagues, and fans to know what they feel or wanna share with you!!!
Is there any way to report/prevent offensive, abusive or vulgar messages?
Yes, you can report any message that you feel is offensive and is trying to insult or bully you.
The Sarahah app developers can't tell you who the sender is not prevented it from happening in future because of the anonymity it offers to the non-registered sender.
If a registered sender sends such messages then that account will be flagged and removed.
Hence, the User has an option to allow only people who are registered on Sarahah app to message you, this is to prevent cyber bullying from anonymous users.
Is there a way to differentiate messages???
Yes, Sarahah app allows you to save your favorite message you receive and they have a section called Favorites where you can transfer most lovely messages you receive and wish to cherish and look on.
Below we have a few screen shots giving some insights into the user experience of using Sarahah app web page.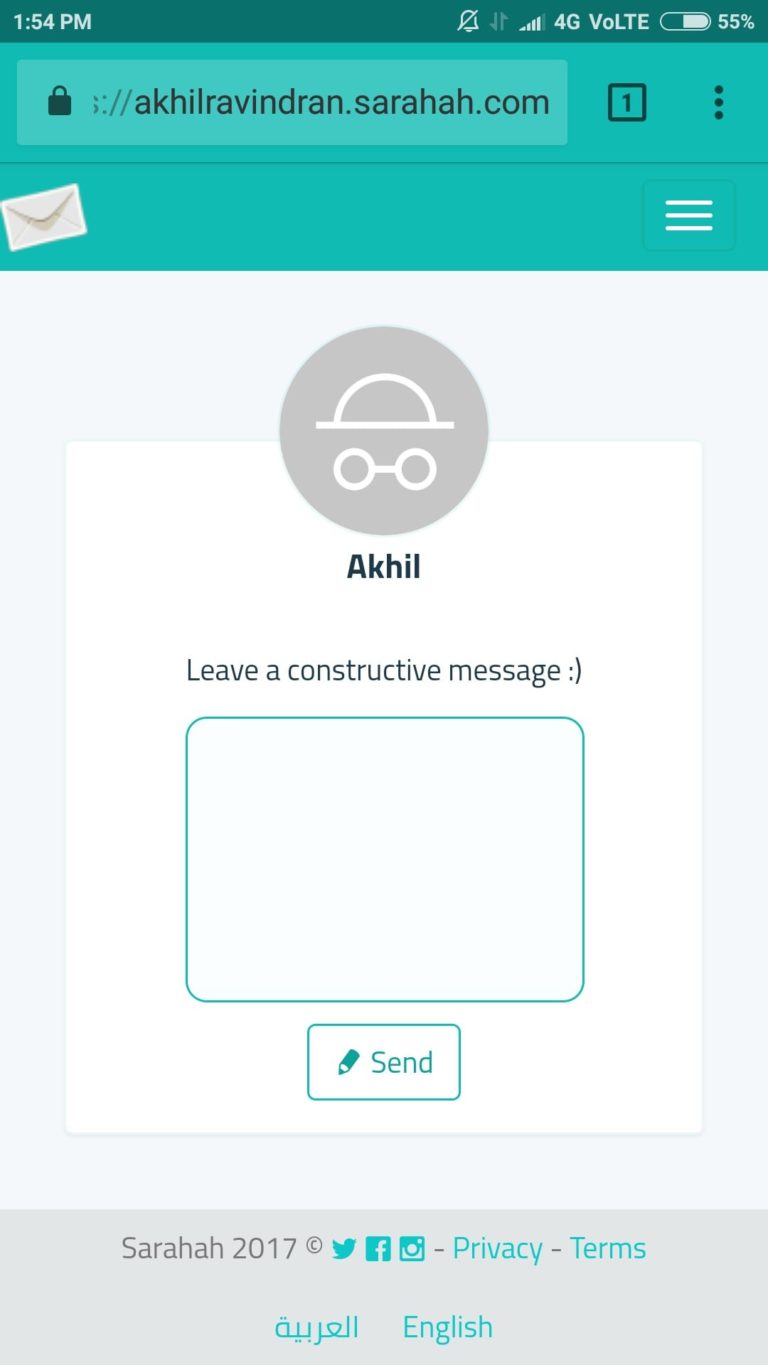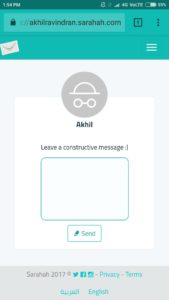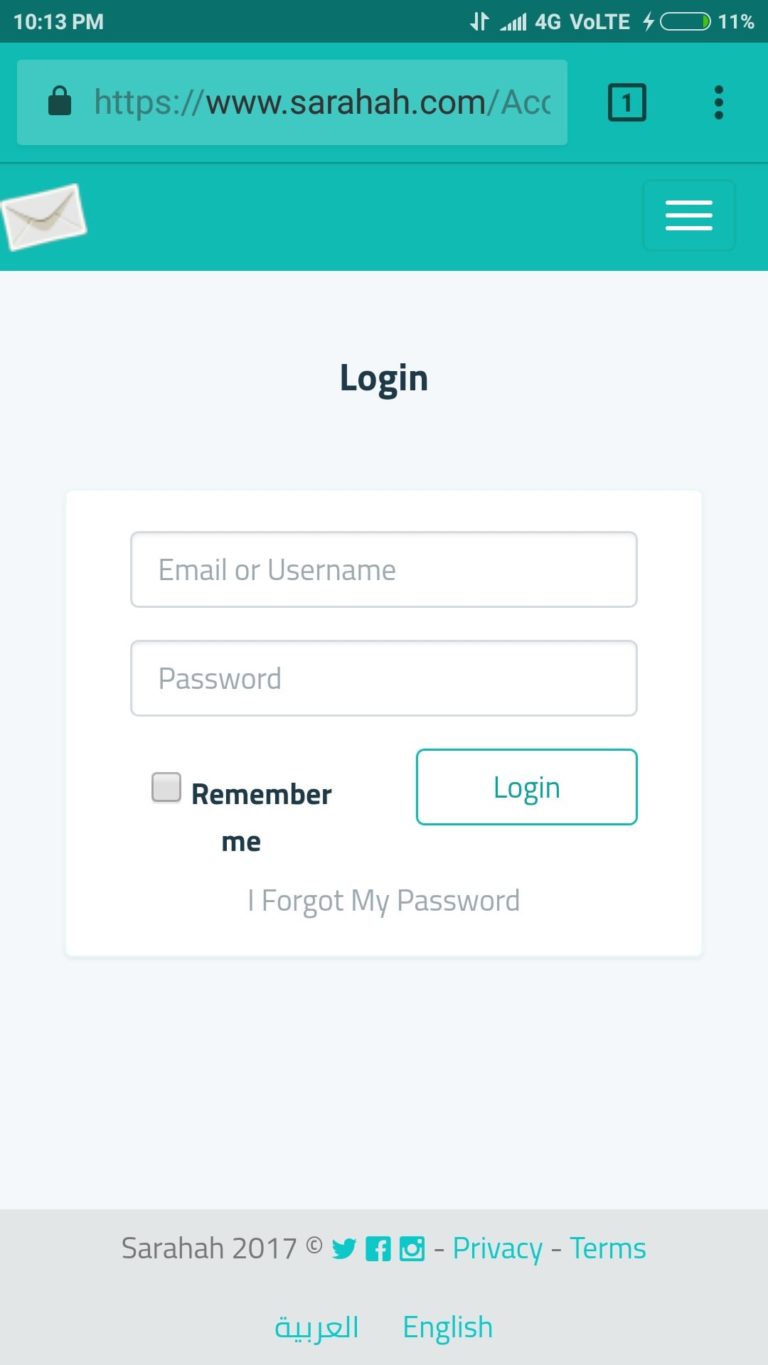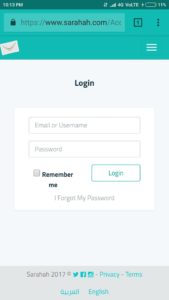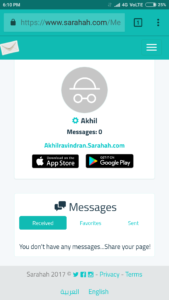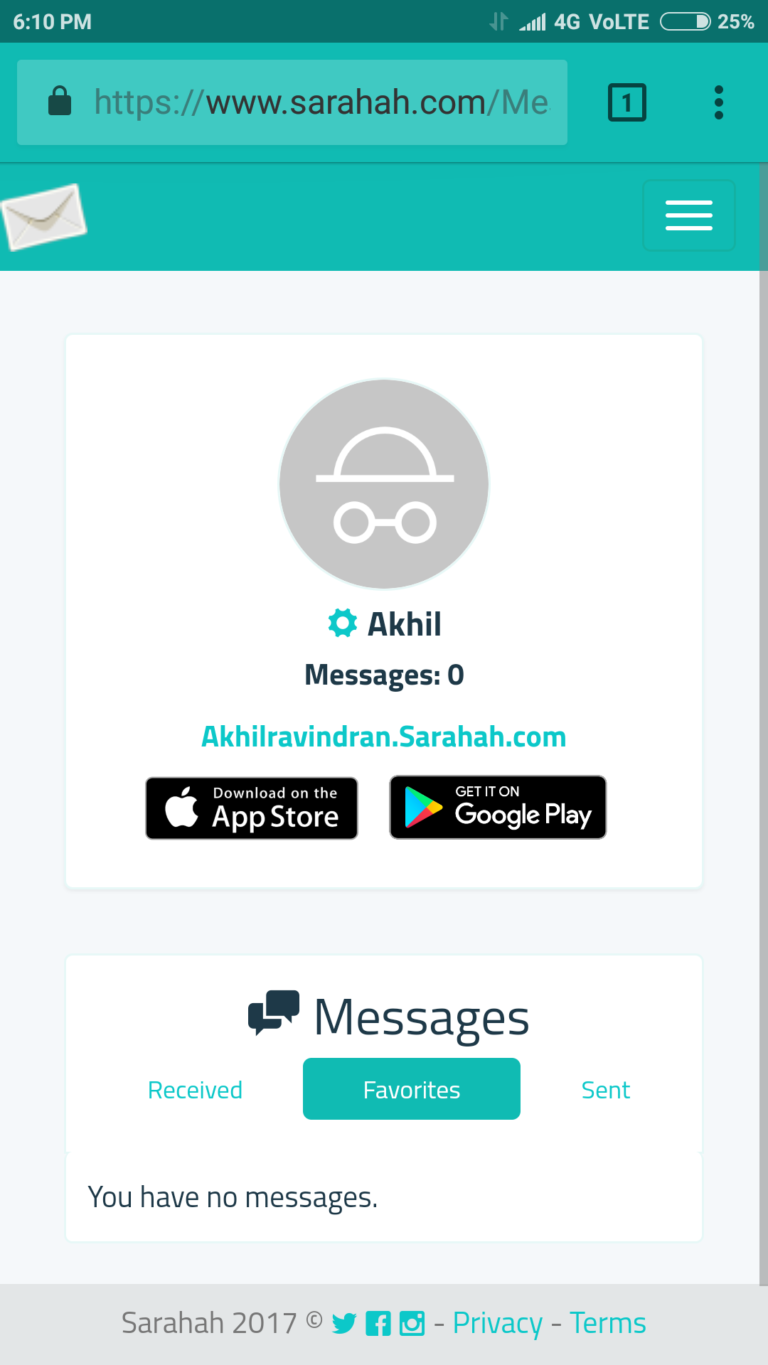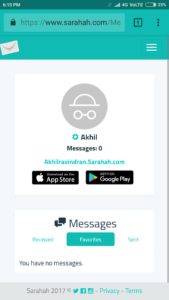 "Stay Informed and connect to Today's era  for the latest updates."
Also refer: Everything to know about Sarahah