A fun playing connecting dot game has made a loud buzz. It has made its presence visible in the market in very less time. What can be the reason behind this? Let's find out.
It's one of those types which can grab your mind and attention for hours. It keeps you involved and its guaranteed that you'll never get bored of it. There have been many like this one before. But this one is a bit different.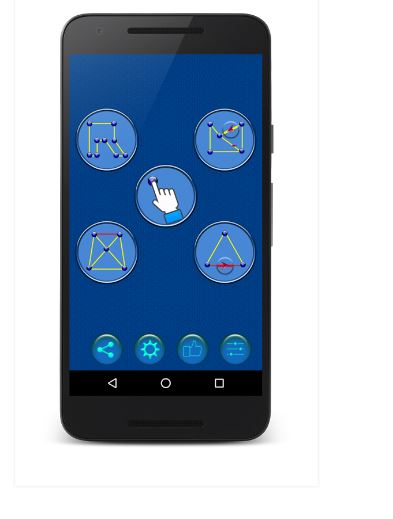 It has everything which is easy to understand and comprehend. Basic rules can get you to the higher levels easily. This is the key factor in this game. There have been many downloads till date and hopefully, it will keep rocking the gaming arena in future too.
Start it once and you will never feel like keeping your device aside. With these aspects in mind, The main features are as follows;
App Link: https://play.google.com/store/apps/details?id=com.scorpionfun.onetouch&hl=en
One touch connect:
Just tap once and you can easily connect the dots. The process is very easy and handy. People of all age group whether its kids or elders everybody will love to tap and solve these puzzles.
Many times you get bored of dull appearance and monotonous techniques of a puzzle game. But this one is completely different, it has well-defined tabs. Beautiful colors and amplified and impactful sound effect. This will enhance your gaming experience.
Easy touch connect makes the task of understanding and mastering g the game easier.
Connect dots:
Remember the earlier days when we had video games which had similar games. Those were not only fun but also logical. While playing those games you have your mind boosted up. It's a kind of mental workout.
Connect dots puzzle game: Puzzles are the way to sharpen your mind. So while playing this game you sharpen your mind. It's designed in a manner that you can easily select level and sharpen your skill.
Connect lines: Touch with your finger and connect the dots through lines to get the correct pattern. It's a very simple yet interesting and involving game. To be honest there has been no other in recent times which is so easy yet so convincing and fun to play.
Solve puzzles:  Remember the time when we purchased brick puzzle game from the market and spent weeks and hours solving those puzzles. Similarly, solve these puzzles and get mind blowing puzzling experience.
Puzzles games have never been so much fun ever before. So tap the banner now and download this game to keep yourself sharpened.
Brain Storming game : If you are someone who plays games on the mobile phone. Then this is the brainstorming game for you. Try it out and you will surely recommend it to everyone who loves playing games.
Connect in one touch and make the puzzle solved.
Connect dots in one go and download now for an exciting gaming experience.
How to play
There are always few rules to play a game. Same applies here there are few set rules which you should keep in mind to get in pace with the game.
Drag your finger across the pattern. Connect the dots and complete the pattern in lesser time.
Always remember the more time you take, lesser number of stars you get. So just complete each level in lesser time to get at least 3 starts.
There are several categories in which you can drag the line in the game to make it work:
Single trace; In this type of article only once you need to drag, you cannot drag over a line twice. If you do so your game is over.
Single directional trace; This is another kind of trace here also you can drag across the line once but a direction is also specified where you can drag. Violating this can make your game over.
Double trace; It's a completely new one. Here you can drag twice over a line ( only red line ).
Double-directional trace; Here the red line is the queen. You can drag twice in a direction along the red line.
With these rules, you can easily solve the puzzle and connect the dots game easily.
In today's scenario when there are so many mobile and computer games storming the market. We hopefully wish that this game makes a hallmark of success. So be the way you keep playing g and stay connected.
"Stay Informed and connect to Todaysera  for the latest updates."