Hanoi Travel is cheaper and one of the best destination in every budget for Christmas.
To the world of miseries and sorrow, to the bustle and hustle of survival, we bring an auspicious tour to the country, to the holiness of tradition and classic.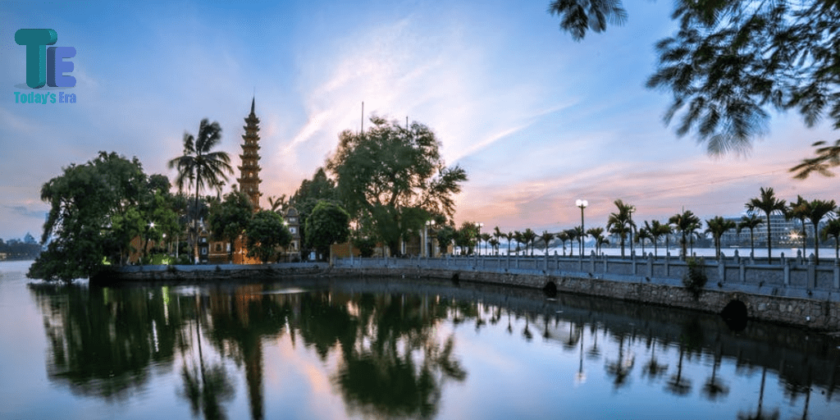 Let relieve your pocket, forget about the pennies and ask your kin and your inside to get your insight allured by the Christmas you deserve, we bring you, 'Vietnam', we bring you the best destination in low budget.
Hanoi, also known as the 'Paris of East', is the capital of one of the world's cheapest country and so it is!
For a backpacker, a day in Hanoi amounts to not more than 11.35$ though it is 221,500 VND. Hanoi is one of the best travel places in Asia for Christmas. It is the compact and easy-to-visit city with colonial architecture.
Although Christmas in Hanoi is not a public holiday but the thrills and chills, the weather and its low prices mark its designation as one the cheapest still a satisfactory Christmas destination.
The temperature of Hanoi in December scales not more than 22-25 degree Celsius and this bit chilly experience is a sound reason to spend your winters in a place allowing you to rush out in lunacy and enjoy Christmas at its best.
Hanoi is a street food heaven with Pho soup, Bun Cha, Egg soup and Cu Cuan Thit among the appetizing cuisine and if you enjoy treating yourself among the locals on small plastic chairs, it costs almost nothing!
Though the tourist restaurants do not demand a huge chunk of your bank account with budget breakfast, lunch, and dinner costing to about 2.42$, 3.95$ and 7.03$.
And to greet all, Hanoi is the end to the search of cheap beers with some classical and rare collection including World's cheapest beer, Bia Hoi.
In fact, you don't need to disturb your savings to travel in Hanoi because you're welcomed in a 3-star hotel with prices starting from 28US$/night (for two people) and even if you desire a 4-star, you can grab one at 64US$/night.
Christmas decorations in Hanoi is more-or-less like any other 'Christmas paradise' on Earth, streets with Noel's pattern, Christmas tree in front of malls and shops, snowman near every ice-cream corner (though there is no snowfall in Hanoi), but Christmas in Hanoi is when high-star hotels offer the most luxurious buffet party and hilarious music performances costing not more than 75$.
And if you enjoy pop ballads, classic, jazz, Hanoi give its very own Opera House, a must visit of the ancient.
Though per 3km taxi ride costs not more than 3$, cycling or a bike ride is most suitable transports of Hanoi leading to an unexplored admiration of the Hang Ma street which is in the heart oh Hanoi's Old Quarter, another must visit. Hang Ma street entertain the trend of selling ornaments for special occasions like the very centered here and don't forget in "low prices", but aye, a lady is always welcomed for bargaining if you feel so!
Also, the shopaholics need to be entertained by the fact that all new fashion and brand campaigns of the year are launched on Noel and New Year's Eve a there is no blackout days here. Parson, Vincom Plaza Tower, Ruby Plaza and Gordon Mall are some suggested to spare that currency.
Beholding all these blissful Christmas presents for budget travelers, Christmas still longs for the divine custom at Churches which Hanoi doesn't forget to deliver.
With Saint Joseph Cathedral, Ham Long Church, and Cua Bak church, Hanoi is ever-ready for your best delight.
This bargain journey does not end up with Noel if you ever visit Hani don't forget to add-on to your to-do-list, the following places to visit:
1) Imperial Citadel of Thang Long which is a UNESCO World Heritage and an intriguing relic symbolizing Hanoi.
2) Thang Long Water Puppet Theatre with breathless puppets dance and slide over the liquid stage.
3) Ho Chi Minh Mausoleum, dedicated for the reverend Uncle Ho.
4) The Perfume Pagoda, an enchanting dramatic experience of Buddhism built into a mountain range in a maze of alleyways carved into the rock.
5) Ngoc Son mapped on an Island in the center of the Turtle Lake (Hong Kiem Lake) professing a beautiful background of astonishment.
6) Ba Vi National Park, a natural reserve of stunning beauty with 3-peaked mountain enclosing a diverse range of jungle plants and animals.
7) Hanoi Hilton, a French-built prison recalling the traits and threats of Vietnam/American war.
8) Dang Xuan Market, housed within a four-storey Soviet-style building is a center of attraction of shopaholics offering an extensive range of fashion, apparels, and souvenirs.

9) Last but not the least, Temple of Literature which is a center of learning dedicated to the Chinese sage and scholar Confucius.
"Stay Informed and connect to Todaysera  for the latest updates."