Dal is an Indian form of dried lentils, pulses, peas and millets. There are more than 80 varieties of dal available in the market.Dal is the substitute in all type of Indian cuisine.
There are millions of dish made from dal.Green moong, masoor, urad, chana, toor, lobia, Matar, horse gram these are some of the most frequently used dal varieties.Including dal in your daily diet, gives you enough protein you need to run your day.
Having 38-40 grams of a dal gives you protein and calcium. Non-vegetarian gains their protein from white meat and red meat.
Lentils are said to be the equivalent substitute for meat, which will be comfortable for vegans. It helps in building up muscles and improves immunity and increase your bone strength.
It is an easy and simple dish for beginners as well. It is also said to be the quickest recipe to do. There a lot of recipes available for cooking dal as the main ingredient.
A simple recipe for making archer dal chawal recipe as follows, this recipe for the people who won't use onion or garlic in their dish. This is because they avoid using garlic and onion while cooking dal.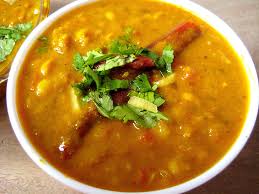 Source: https://c1.staticflickr.com
You don't need too much of ingredients to cook a dal dish, just a few items to make a delicious dal recipe.
Ingredients needed for making Arhar Dal Chawal:
1 cup yellow lentils or pigeon dal.

1/2 Tsp turmeric powder

1 1/2 Tsp salt

1 tsp ginger-chopped finely

2-3 pieces of raw mango or amchur powder (optional)
For Frying of Arhar Dal Chawal:
1 tsp cumin seeds

A pinch of asafoetida

1 tbsp clarified butter

1 tsp chopped green chilies
Preparation for making Arhar Dal Chawal:
1. This dish will be ready in 30-35 minutes. It depends on the boiling time of dal.
2. Soak dal in water before cooking, so it will easy to boil.
3. Boil dal with 3-4 cups of water in a cooker, with some pinch of turmeric, salt. Some people add castor oil to the dal so it will be easy for digestion.
4. Cook until tender and well blended.
5. Add amchur and simmer for another 10 -15 minutes. It is optional if you like you can add it to your dal.
6. Heat the clarified butter in a big pan, add the asafoetida and cumin seeds and green chilies and ginger. Asafoetida is just added for easy digestion.
7. When they get toasted, add dal mixture, bring to a boil. Simmer it for about 1-2 minute, it will be a quick mix. Garnish with coriander leaves.
It goes well with hot rice and Roti.Another recipe for the people you add garlic and onion in their dish, which brings out a different taste.
Other Ingredients for Arhar Dal Chawal:    
1 cup arhar dal or pigeon beans
2 tsp clarified butter/ghee
A pinch of asafoetida
1/2 tsp cumin seed
1 dried red chili (broken)
1/4 tsp turmeric powder
1/4 tsp red chili powder
Salt to taste
1 green chilies
1 tsp ginger chopped
1 tomato (finely chopped)
1 onion (finely chopped)
1/2 tsp smashed garlic
2 tsp lemon juice
1 tsp coriander leaves.
Preparation:

1. Wash well and soak the the dal the total in 2-3 cups of water for 1/2 hour. Soaking helps the dal to reduce the cooking time.
2. With Pressure Cooker – Drain out the water and put dal with 3 cups of water, salt and turmeric and castor oil in a pressure cooker.
3. Close the lid and cook the dal. After the first whistle turn of the stove and cool it for 10 minutes.
4. Once the pressure lifts off, open the lid and check if dal has been cooked or not. If it not cooked will add some water and boil it for another 15-20 minutes. Don't make the dal too thick like a paste, add enough water while cooking.
5. Without Pressure Cooker – Drain out the water and wash the dal. Add dal to a pan and add some water, salt, turmeric powder and oil for cook it for 30 minutes, till dal is completely cooked. Add water according to your desired consistency.
6. With Oven- It is so simple cooking dal in the oven. Add the desired amount of dal into the cooking bowl with water and salt. Bake it for 25-30 minutes at 1800 After baking it, keep it aside and let it cool for few minutes.
7. You can select any way that you want to cook dal. After cooking dal, transfer the dal to the frying pan and get ready to mix it with spices.
8. Take oil or ghee or clarified butter in a pan, and heat it.
9. Add cumin seed to the hot oil or ghee. When the cumin seeds (you can also add mustard seeds) begin to fry add dried red chili and then add green chili, ginger, garlic and fry them until it becomes brown and cook them in low flame.
Don't fry them too much. After few seconds add onion and add tomatoes to it.
10. When the oil begins to float on the fried masala, add a pinch of salt and red chili powder to it. Stir well with a spoon and pour over the dal and close the lid and let it simmer for few minutes till the masala is infused well with the dal.
Don't overcook the dal, because sometimes it gets into a thicker consistency. Try to avoid it.
11. Before serving dal, garnish it with chopped coriander leaves (mint leaves are optional) and add lemon juice (optional). Adding lemon juice just gives you tangy taste.Serve hot with steamed rice or roti.Add ghee on top of the dal when it is served with rice, it gives the best taste and brightens the flavor of the dal.
Source: https://upload.wikimedia.org
Most of the dal recipes are quite simple and easy to prepare. It takes only up to 30-40 minutes.
The most general preparation of dal begins with boiling the required variety of dal (or a mix) in water with some turmeric, salt, and then adding a fried spices at the end of the cooking.
It tastes better when it is served hot. In other different dishes, people add some tomatoes, tamarind, dried or raw mango, or other vegetables are added along with the dal, they are just added to increase element in dal.
Dal is just a perfect comfort food for everyone. It is an affordable price. Dal is the best vegetarian food for all vegan. Dal can be had any time during our meals, there is no just specific time to have it.
It is also best healthy diet food to be added to everyone's diet chart. It has no trans-fat or cholesterol in dal, it is basically fat-free food.
It is the best food for all fitness people, who are concerned about their weight, it will be easy for them to have healthy food.
It is also one of the easy recipes for beginners. Not only for this recipe, can you try out with other different types of a dish using a different variety of dal. It is a just easy simple dish for everyone.
Try it out, hope it was helpful.
"Stay Informed and connect to Today's era  for the latest updates."