Do you know what is the full form of HUDCO?
HUDCO Full form: Housing and Urban Development Corporation Limited
HUDCO:  General Overview
The Housing and Urban Development Corporation Limited (HUDCO) is a government-owned corporation based in India. It is one of the public sector undertakings (PSU) and is wholly owned by the Union Government of India.
HUDCO is under the administrative control of the Ministry of Housing and Urban Poverty Alleviation.HUDCO is mandated to finance both in the urban housing as well as the urban infrastructure projects.
The government has also given HUDCO the task of building affordable housing for lower-middle-class strata. HUDCO has been given the status of Mini Ratna, 2004, under the various forms of public sector undertakings.
HUDCO Full form in Hindi: आवास और शहरी विकास निगम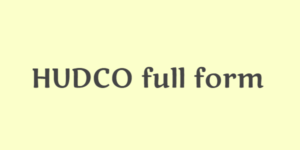 HUDCO came into existence on 25 April 1970. It was established as a private limited company under the complete ownership of Indian Government under the Companies Act, 1956.
Housing deficit in India in the 1960s and 70s gave to rise to the setting up of HUDCO with the objective of addressing the issue of housing finance.
The organization provides finance for new towns and also works as consultancy services for the projects of designing and planning related to Housing and Urban Development programs. HUDCO won the UN-Habitat Scroll of Honour Award for its contributions to the development of housing in the year 1991.
HUDCO started financing development of infrastructures in 1989 prioritizing infrastructure facilities including projects in the sectors of drainage, electricity, water supply, sewerage, solid waste management and roads in the urban areas. Later other social infrastructure components were taken into consideration.
HUDCO has contributed immensely to India Habitat Centre. Forest Reserve Headquarter in Chandigarh and beautification of Sabarmati Ashram in Ahmedabad were also supported by HUDCO.
The organization was the key part in setting up national games villages in Bengaluru and Imphal. It has participated in projects such as Mission Bhageeratha in Telangana and development of new capital of Amravati in Andhra Pradesh under the Capital Region Development Authority (CRDA).
It also finances water supply, drainage, road and metro rail projects. It has funded the Bangalore Metro Rail project recently.
Road and Transport
HUDCO has been providing term loans for construction of roads and other transportation sectors. Many Airport projects in the country have been by HUDCO. HUDCO sanctioned 100 crore rupees for KSRTC in 2002 for the purchase of 550 buses and 350 mini-buses and also granted 260 crores in 2014 for purchasing 1500 buses.
Solid Waste Management
In 1994 a Waste Management Cell was set up by HUDCO for the promotion of municipal waste management.
Sewerage and Drainage
58 schemes with a project cost of Rs 675 crore by HUDCO to provide new systems and to augment the existing Sewage and Drainage Systems.
Water Supply
295 water supply schemes, with a total project cost of Rs 5,285 crore were fully funded by HUDCO. In 2016 HUDCO also gave finance to Nellore's underground drainage project.
"Stay Informed and connect to Today's era for the latest updates."