What is the full form of MRF?
MRF full form:
Madras Rubber Factory
We all have heard the Brand MRF in tires. But only a few of us know that this largest manufacturer of tires in India was started as a toys manufacturer. Full form of MRF is Madras Rubber Factory Limited, in short MRF, is the 14th largest world's tire manufacturer. The headquarters of MRF Ltd is in Chennai, India.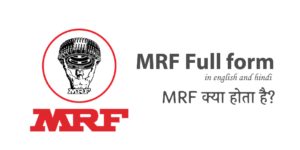 History
In 1946, Chennai, MRF which stands for Madras Rubber factory was started as a toy balloon manufacturers. By 1952, the organization producing tread rubber. MRF was registered as a private company in November of 1960. In partnership and joint venture with Mansfield Tire & Rubber Company, Ohio, US, MRF started manufacturing Tires.
On 1 April 1961, the company decided to go public. For exporting to foreign markets, MRF established an office in Beirut, Lebanon with its logo of a Muscleman. By 1967, MRF started exporting tires to United States of America. Nylon tyres production was started in 1973.
They collaborated with B.F Goodrich in 1978 for Technology transfers and improving their products. The following year, The Mansfield Tire & Rubber Company exited the venture by selling its shares and the Brand name was changed to MRF Limited.  A collaboration with Marangoni TRS SPA of Italy gave MRF technical knowledge of manufacturing pre-cured tread rubber for retreading business. One of the consumers of MRF tires was India's first car of modern era, Maruti 800.
In 1989, along the collaboration with Hasbro International of US, MRF started Funskool India. Apart from this, MRF collaborated with various foreign multi-national companies for manufacturing polyurethane paint formulation, belts. Between 2004 and 2004, the company expanded the range of products to GO kart rally tires, three and two-wheelers tires.
Full form of MRF in Hindi:

मद्रास रबर फ़ैक्टरि
Products
MRF manufactures different types of high-quality tires for cars, trucks, tractors, buses, bikes, scooters, commercial vehicles and tires for aeroplanes. MRF ZVTs and Wanderers are for cars/ SUVs. MRF meteor is for all types of terrain. And for buses and trucks, MRF Steel Muscle.

In house manufacturing of conveyor belts with the brand name Muscleflex.

Pretreads since the 1970s. This is with the help of best retreading mechanism in India.

Paints for automotive, decorative and for various industrial applications.

MRF also produces crickets accessories like gloves, pads, bats etc.
Manufacturing Plants and Units
MRF has production and manufacturing units in Kottayam (Kerala), Puducherry, Tiruchirappalli, Arakonam and Perambular (Tamil Nadu). MRF has recently started plants in Medak and Ankenpally (Telangana). In Goa plant, the production is focused on toys whereas there are also two facilities in Chennai which produces paints & coats.
Motorsports
Racing
The first MRF racing car of Formula 3 was built in 1997. Also with Maruti, MRF started Formula Maruti racing competition for single seater race cars with open wheel class made in India. Madras Motor Sports Club with MEF started MRF Challenge which is an open-wheel motorsport formula 2000 based series. MRF has financed and supported Racers of India such as Karun Chandok, Ashwin Sundar, and Raj Bharath.
Rally team
MRF has sponsored MRF Rally Team which is participating in various rally championships and competitions such as Asia-Pacific Rally Championship & Indian National Rally Championship. With Skoda car manufacturers of Czech, MRF-Skoda has won three times in Asia Pacific Rally Championship in the years 2012, 2013 and 2014. MRF also takes part in the world's highest rally competition Raid De Himalaya.
Motocross
MRF sponsors a national championship for motocross which has all terrain 2-wheeler racing events which are held in various cities annually. The circuits are enclosed off-roads.
Karting
The major Karting competitions in India are sponsored and funded by MRF. MRF developed India's first tires which are FIA approved for karting.
"Stay Informed and connect to Today's era full form list for the latest updates."