As we all know India is famous for the rich culture, travel and tradition. It's impossible to explain whole Indian tradition together so today I would like to share things about Rajasthan.
It is a well-known cultural city. Basically, Rajasthan defines Indian culture very well. It is the most visited places and the best destination in India.
The vibrant places, their rustic culture, cities, people, and food have simply no match to others. Travellers around the world come here to see and experience the legacy of Rajasthan culture.
The state is famous for its heritage palaces, huge forts, and magnificent temple. They have their unique festivals, food, clothing style, ornaments and their products.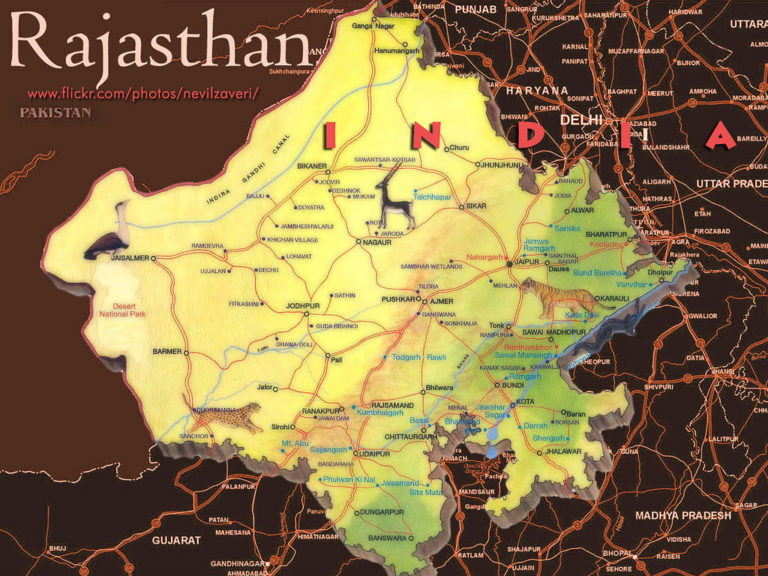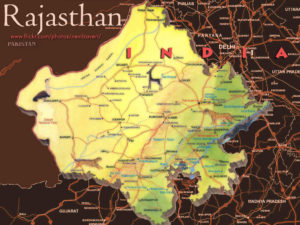 Source:flickr.com
Rajasthan is one of the most visited tourist spots, by every tourist coming to India. As it is said to be a desert state so summer season will be hectic and extremely harsh.
Winter season on the other is the best time to visit Rajasthan. The temperature during the winter season (October to March) is quite favourable.
There are many cities in Rajasthan which should be visited for their culture and for the good entertainment, namely Jaipur, Udaipur, Ajmer, Jodhpur, Jaisalmer, Pushkar, Bundi, and Chittaurgarh.
Rajasthan is known for exciting things to do. There are so many things to do in Rajasthan. So here are some experiences that will make you feel grand and will increase your excitement level to visit Rajasthan soon.
Dune Bashing: Dune Bashing is a popular one in Rajasthan, especially in Jaisalmer, where you get to go on a rustic ride in the desert in a jeep, not only in Dubai, we can experience this desert ride in India too.
Desert camping: This type of camping in the desert is truly one of the best things to do in Rajasthan especially during winters. This is something awesome. The picture totally describes the awesomeness.
Zip lining: Zip lining, we might have seen in other countries, but we also have in Neemrana Fort and Mehrangarh Fort. The experience can't be described unless you try it, both places offer splendid views, Neemrana is an ideal getaway near Delhi and Mehrangarh is very close to Udaipur.
Visit a Camel Breeding Farm in Bikaner: Rajasthan is also famous for its camel. We can get to see camels on roadsides and the best thing is camel riding. One of the most unusual yet it is an interesting thing to do in Rajasthan.
A day out with elephants: It's like a small function for elephants, where they are dressed in the traditional way with costumes and ornaments. We can also ride on this elephant, which is something superb and a fun full thing to do.
Go on camel safari: The speciality Rajasthan is camel riding. We can explore the whole city of Rajasthan on camel's back. Best cities to enjoy camel safari are Pushkar and Jaisalmer.
The music of Kalbeliya Tribe: we can enjoy the lovely dance and music and the performances done by beautiful women of this particular tribe. I bet their belly dancing skills will completely blow your mind.
Ajmer Sharif: Ajmer Sharif is the holy resting ground. Thousands of devotees visit this shrine each day. Trust me this a fabulous place to visit. I don't think so I need to explain anything more about this place.
So these were the few things that which you can go and experience in Rajasthan.
A tour to Rajasthan is imperfect if you haven't experienced their mouthwatering dishes. Rajasthan, the land of Maharajas, is famous for its ruling kingdom.
But what makes the state unique and popular is their cuisine. Rajasthan just loves their food and it is reflected in their preparations.
1. Dal baati churma: Dal baati churma is one of the well-known dishes, no Rajasthani food is complete without Dal Bati Churma. These round Batis are dipped in ghee with Panchkuti dal and churma, which gives out the delicious taste.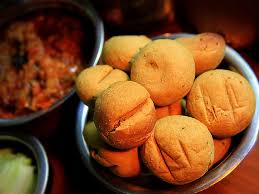 Source: upload.wikimedia.org
2. Laal Maas: Laal means "red", that how this dish got its name. The dish gets its color from the blazing red chillies and served with bajra roti's which brings out the taste and it is said to be the best combination.
3. Mohan Maas: The meat is the hero of this dish. The meat can be lamb or chicken, is roasted with milk and mild spices which make it tender and juicy.
The thick gravy has khus-khus, it has a lemon which brings out the taste and the cardamom bring out the divine aroma and the flavour of the dish.
4. Rajasthani Kadi: The Rajasthani dish is a most beloved dish, it goes well with rice and all type's of roti. This is a spicy dish and a mouthwatering one.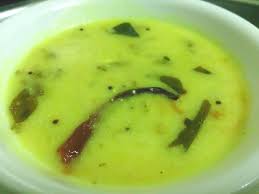 Source: upload.wikimedia.org
5. Gatte Ka Pulao: It is also the type of pulao, it has a mixture of freshly steamed rice with spicy gatte infused with other spices. It is mainly said to be party dish which is easy to make and a quick recipe.
6.Ghevar: This dish is in the form of a disc, which is also easy to eat. This sweet is prepared with ghee, flour, paneer. Finally, this is dipped in sugar syrup. It comes in various varieties like Malai Ghevar and Mava Ghevar, in which the key ingredient.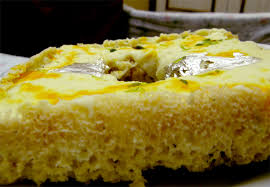 Source: upload.wikimedia.org
After visiting the place and talking about food. Now it's time to talk about clothes.
Rajasthani is a lively place and the people and their clothes are exactly reflect their spirit. They show their enthusiasm to achieve anything in life.
The Rajasthani clothes are designed with extreme care by taking care of the weather and the items they use and tradition they are following for ages.
Men's attire- The main ones are the Pagri, Angarkha, and Dhoti. These 3 are an integral part of Rajasthani male's attire, which outstands them from others.
Rajsthani Pagri-  The pagri is a necessary piece of costume. The way it is designed it totally reflects Rajasthani culture and region.
Turbans that are used in Rajasthan comes in many different shapes, sizes, and colors. They wear specific turbans on functions.
2. Angarkha- In other I can say it as a body protector also. A soft cotton kurta which is easy to wear in summers. They use the different dying method and it has some printed design.
3. Rajsthani Dhoti- Dhotis are used to cover the lower portion. It is a piece of cloth which measures 4m by 1m and used on daily basis. The Dhotis are usually white in color.
In Festival season men wear silk Dhotis and printed ones with zari border.


Source:upload.wikimedia.org
Women's style of attire- Women usually wear a long skirt called as Ghaghra, Choli, and Odhni.
Rajasthani Ghagra- It is a long skirt with lots of work on them. It is available in all colors. Each and every design is done by hand. They wear for functions, which we can find them easily.
2. Kurti or Choli- Kurti or Choli covers the upper portion of the female's body. It has mirror-work, creative cutwork and is skillfully designed by studded sequins and beads, shells and coral and unique embroidery on them to enhance the ethnic effect.
This brings out the beauty and grace of the Rajasthani women, who wear it with admirable and it gives aesthetic appeal.
3. Odhni-  Odhani is a long and transparent piece of cloth, made of thin fabric. This material is light in weight and texture, worn as a covering cloth to conceal and protect a woman from all outer influences.
It always comes out in vibrant colors, some wear it to show their community and their cultural style.
Without shopping a trip could be boring. So now I will let u all know what are the famous things u can buy from Rajasthan.
1.Anokhi-  Anokhi is a method of printing designs by hand. They make their own dye and they make their design in wooden boards and they paste it on the clothes.
You can also try out your own designs and it is also a fun thing to do.
2. Blue Potter- Kirpal Kumbh- When you think, of Rajasthan, one of the first things that come to mind is the famous blue pottery.
Every detail is handcrafted and it's just beautiful. Mostly they are used to decorate homes.
3. Footwear: Mojari- This is Rajasthan's famous footwear. it's so elegant and the details on it just make us buy them instantly. It is so comfortable in wearing. This the best shopping item loved by all the women's.
One of the cutest and the best souvenir thing you could get in Rajasthan is Puppets- When it comes to puppetry, Rajasthani puppets are the best, which make Indians proud.
They are hand-made, they are in vibrant colored string puppets are not only the most unique and best gift that you can collect from Rajasthan. They are proud torch-bearers of more than thousands year of an old culture.
This is the small momentary about Rajasthan, to know more about Rajasthan just visit and explore with moment able experience. I hope after reading this for-sure you all will be excited to visit it soon…
Thank you for reading the article. Will come back soon with another exciting culture of India…
Not forget to see the pictures below which will take u directly to Rajasthan. Just feel the beauty.
"Stay Informed and connect to Today's era  for the latest updates."
Also refer:http://tourism.rajasthan.gov.in/plan