After cracking various exams for engineering like IIT,  AIII etc. students prefer various streams like mechanical engineering,  computer science, infotechnology etc.
Do you know what are top mechanical engineering companies in india?
In this article,  we will be discussing specifically about top mechanical engineering companies in India form a good carrer point of view.. Briefly, mechanical engineering involves a lot of production in design, and operation of machinery, also, it is considered as one of the oldest and broadest branch of engineering disciplines.
After completing B. Tech, one of the hardest tasks is to find the best mechanical engineering companies. Now we will give you an insight into the topmost famous and core companies for mechanical engineering.
Mechanical Engineering Companies in INDIA
We have prepared a list of top 50 mechanical engineering companies in india which are the core companies of mechanical engineering, these are as follows:-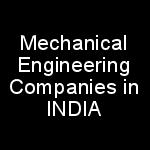 1)Tata group – as we all know, one of the most recognised company worldwide.  It has brought a huge change in different fields but particularly in mechanical and production. Tata Motors is now a part of the USD100 billion Tata group. It was found by Jasmetji Tata. For mechanical engineers it's a dream company.  To know more about this company you can visit www.tal.co.in .
2)HCPL– It's a government enterprise, therefore, a huge scope of security and monetary benefits altogether.  It has a status of Navratna and won a lot of awards like Forbes 2000 and Global Fortune 500 Company.  It had been incorporated under the Indian Companies Act 1913. It's core philosphy is ' giving back to society'. To contact them you can email them at [email protected] .
3)Kirlosakar :- From the day it has been established till the current date,  the company has no stopping and is considered as one of the pioneers in the field of mechanical emgineering.  It indulges mainly in large infrastructure projects. To contact them you can use their phone no. +91-11-24331368 or fax them on +91-11-24331367.
4) Ashok Leyland :- It is an automobile manufacturing company based in Chennai. It has made a worldwide recognition by being one of the topmost mechanical engineering company.  It is recognised as the 2nd highest manufacturer of commercial vehicles in all over India and the 4th largest manufacturer of trucks globally. To know more about them you can email them at [email protected]
5)Thermax :- It is an all around engineering company that provides sustainable solutions in energy and environment.  It's core objectives are to stay competitive,  for this companies need to adopt sustainable development practices. To contact them,  use their phone no.  91-20-66051200.
6) BHEL :- It is an integrated power plant equipment manufacturer.  It is one of the largest manufacturing company in India and is basically engaged in  designing ,  making,  engineering, manfacturing and servicing of a wide range of products and services. To contact them you can use their phone no.  :- +91-11-6633700
7) Larsen and turbo :- It's also known as L&T company,  having a great impact on different sectors of the economy. It's headquarters are in Mumbai.  It's a private company and is highly recognised in private sector.  It has a strong customer focussed approach and provides world class quality. It's been 75 years of its establishment and has unmatching capabilities across technology,  engineering,  construction  and manufacturing . To comtact them dial 1800-2094545 (toll free no.)
8) Godrej Company:-It's been 7 decades of its establishment  but still a very powerful and respectful company all around the globe maintaining a strong customer focussed approach and has expertise in mechanical engineering jobs.  It has expertise in Technology,  engineering,  construction,  infrastructure  projects and manufacturing. It has unmatching qualities of being a worldwide competitor and definitely a dream company for mechanical engineers.  To know more about them email them at [email protected].
9) NHPC:- NHPC limited is a government company established with a capital of Rs 2,000 million in 1975 to plan , promote and organise on integrated and efficient development of hydroelectr NHPCic power in India.  It is a topmost mechanical engineering company.  To know more about them you can visit their website http:// www.nhpcindia.com
These were the most famous companies in India,  for recruitment purpose there's a separate list of mechanical companies in Mumbai and there contact no. corresponding to it.
These are as follows:-
10)Hydro Service Technologies :- 26741574
11)Orbital systems :- 022-28473533/1274
12)Greekay-engineering services:- 022-27606868
13)BDK group of companies
14)Jobtrack Management Services – 022-25582369
15)Goodwill Group of Companies- 91-22-25226684
16) Hakims – 0265-6549933
17)SF-Engineering Works -022-28459899 18) Jignesh Steel – 022-28459899
19)Powertek Equipment Company-022-23877979
20)Rushabh Sealink Private Limited- 25156962
21)Viral Engineers – 022-24225405
22)Seal-Proof Engineering- 022-24225405
23)Superior steel overseas – 022-23877979
24)New horizons Engineering Services- +(91)-(22)-25172609
25)Subhlakshmi Engineering Works – 022-28144317
26)Hitech Engineering Company- 91-22-23073402
27)Dwarka Industries- 0257-2210157
28)Sun-Enviro-Technologies-Private-Limited- 2282608
29)Nagpur-Motors-Private-Limited-2292743
30)Wiperdrive Engineering – 91-22-22844307
31)Synchrotech – engineers- 24927164
32)Nishi-Technosys – 022-25891412
We havs created one more list of top mechanical engineering companies for freshers they are as follows:-
33)Genpact Mega Walk-in Drive,  Gurgaon
34) AECOM, Banglore
35)Byjus Classes,  Bangalore
36)Redmi
37)Amazon, Pune
38)KONE elevator,  Chennai
39)Company's First Phone to Get face unlock: Infinix Hot53
40) Accenture: High Performance Delivered
41)KGBSI, Bangalore
42)Trigent, Bangalore
43)Mazik Tech, Hyderabad
44) Reliance Jio,  Mumbai
45)Quickr, Bangalore
46)IBM
47)Bentley
48)Fluor
49)NTT Data
50)NSAIL (www.nsail.com)
This was the list for freshers who can apply in these companies and can start their rising careers. We suggest some more companies like Maha Online Ltd. , Harita Techserv,  Clarrant,  Accenture Off etc.
These were all the topmost mechanical engineering companies in which some have a worldwide recognition,  and some which are suitable for freshers and in addition to it some more companies which one may like to prefer.
In the end, we shall conclude that mechanical engineering is the oldest and broadest of all other branches of engineering and covers a huge part of the economy.
"Stay Informed and connect to Today's era  for the latest updates."